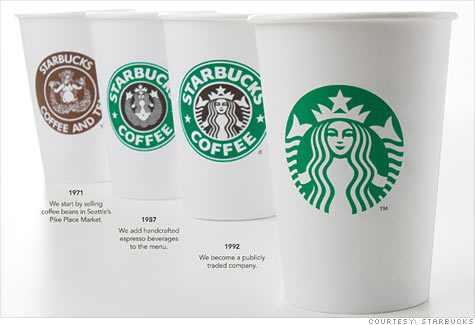 Maybe it's because I have some kind of Pavlovian response to it now after three years of Starbucks being the sole means by which I can purchase alertness, but I found the (now old) Starbucks logo pleasing. So why the new monochromatic, worldess logo?
As the Suze put it, they want to graduate to Nike status. Yes! Nike status! I love it.
Nike status (n.): the final evolution of a brand, in which years of unrelenting marketing render the name and service offered by your company replaceable with a single basic image.
Which, of course, got me thinking: who else has achieved Nike status?
An obvious choice, I suppose, although, to be fair, the logo is in the shape of an apple. Nike and Starbucks have images that don't directly relate to either the product or the name of the company. Here's a fun game: type "apple" into Google and try to find a link related to fruit.
Lots of car companies, of course.
Toyota
,
Honda
, and
Lexus
use the first letter, which is cheating.
BMW
gets disqualified because of those pesky letters.
Mercedes
! There's a good one. Of course, the Germans have always been good with
logos.
And hey, there's something else
Obama
has in common with Hitler.
Any other good ones I've missed?